Now a days attitude of woman has changed due to the different extension activities, conducted by government and different NGO for the empowerment of women .she wants to engaged herself in different government and non government organization and if possible her own entrepreneurship also.
Ms Sunita Roy D/O Shri Umesh Chandra Roy belongs to village Sohaon, Block Sohaon, of Ballia district. She is graduate. In her family her cousin sister are doing the job. She also tried but could not get she wanted to do something. In the June 2006, she come to the K.V.K. Sohaon Ballia and came to know about the mandate of KVK. She was impressed. She participated in the training programme conducted by KVK. Day to day consultation with scientists of KVK, She got confidence and started to prepare chywanprash and Murbba from Aonla, after getting training from KVK. She earned three thousand per month in the season. In the Next year she again did the business and earned four to five to five thousand per Month in season. To see the success of sunita. her sister took the vocational training in tye and dy. They wanted whole year engagement.
Now Ms Sunita is married woman and started her work in inlaws home Ballia and earned money to sell the Murbba, chywanprash etc. She has also started a training class for sewing, embroidery and tye and dy to earn money in off season. She has taken the vocational training in pulse processing and wonts to work on this also. At present, she is a rural youth of full confidence, her own identity and happy with her life.because she is earning money.
Introduction
Name of Farmer : Sri Rajanikant
Village : Panditpura
Block : Belhari
Mob.:9452784948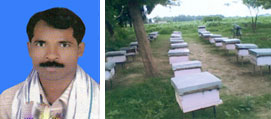 Sri Rajanikant is 38 year progressive farmer of village panditpura, block- Belhari, District – Ballia (Mob, 9452784948). Once upon a time his wife become ill and doctor advised to take medicine with honey. He incurred lot to purchase honey from local market since then he decided to produce noney at his own. He owned only one acre land. During a Gosthi he meet with scientist of KVK Ballia and told his desire to produce honey. For this scientist called him at KVK and trained for noney production and prepare a plan.
Sicne 2007 he started honey production along with way. He continuous by kept on progressing during 2007 – 08 he started his honey bee keeping business with a small amount of Rs. 8600/- . The input – output details are given in table – 1. Sri Rajnikant has become a source of inspiration for other farmers of the distric. Due to limited land resouce he has to transport honey bee boxes to other places such as Buxar, Gazipur, Muzaffarpur (Bihar), Mau, and Malhibad, etc. Farmers of these places request him to put his boxes in their orchard becouse it increase polination as a result increase in production
Expenditure – Income detail of Sri Rajanikant Bee Keeping business
Year
No. of Box
Expenditure, Rs.
Production, kg.
Total Income, Rs.
Net Profit, Rs.
2007-08
10
4000
Honey : 210
Wax : 2.5
12600
8600
2008-09
20
7000
Honey : 380
Wax : 4.7
25000
18000
2009-10
40
10000
Honey : 720
Wax : 10.10
47800
37600
2010-11
60
16200
Honey : 915
Wax : 13.25
85000
68800
2011-12
70
18800
Honey : 1020
Wax : 15.03
106000
87300
2012-13
80
20450
Honey : 1155
Wax : 17.25
128200
107750
2013-14
80
12000
Honey : 1145
Wax : 17.00
130500
118500
Name of Farmer : Sri Ajay Kumar Pandey
Village : Maraurakalan
Block : Sohaon
District : Ballia
State : Uttar Pradesh
Mob. No. : 9453017658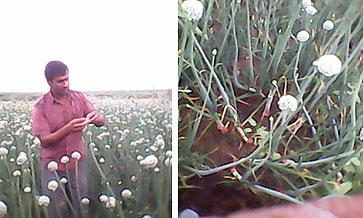 The seed of onion is costly and farmers generally do not produce it but they know the fact that if it is grown at their field they will become capable of gaining a lot. Sri Ajay Kumar Pandey is a enthusiastic farmer and is always try to do something extra ordinary. He started to popularize the profit gain from the onion crop production as well as seed production. Some times their seed are not good quality but they have sown. The onion play and important role among the vegetable and spices without onion we cannot get super taste. The fluctuation in the price of onion is very drastic due to which the onion found in bank locker but Sri Ajay Kumar Pandey Once upon a time they have reach at KVK, Sohaon, Ballia and met the scientist. They gave the idea about crop production as well as seed production of onion. The pandey have got net cultivated 1.25 ha area and 3-5 ha area purchase on the contract basis. The pandey continuously remains in contact with KVK, Sohaon, ballia from the year 2007. the scientist suggested him first soil testing and contact to responsible organization for quality seed with all properly agronomic practices time to time. He had profit in first year but faced labour problem for the cultivation. Then an idea came to his mind why not direct seeding. He directly seeded onion in the field and saved labour cost. The profit gained is very excellence then the other crop. The scientist suggested to him and make a calender related to agriculture in view of through out year action plan.
Sri Pandey and their family are very glad and appreciate in these limited resources. The scientist give a technique about inter cropping of onion with bottle guard. They have got more profitable to another crops. Sri Pandey produce onion crop and seed production in the farm of direct seeded of onion and inter cropping bottle guard from the year 2011 to till date. In this way they have got more profit and their socio-economic status are increase among the farmers. They develop of this technique direct seeded of onion with inter cropping are well popularized among the farmers of different villages of blocks of the district Ballia Uttar Pradesh.
Comparative year wise income Year 2010-11
| Area (ha) | Crops | Gross Cost | Gross Return | Net Return |
| --- | --- | --- | --- | --- |
| 1.0 | Onion | 30000.00 | 210000.00 | 180000.00 |
Year 2011-12
| Area (ha) | Crops | Gross Cost | Gross Return | Net Return |
| --- | --- | --- | --- | --- |
| 1.0 | Onion | 45000.00 | 308000.00 | 263000.00 |
| 0.125 | + Bottle guard | 1000.00 | 11000.00 | 10000.00 |
Year 2012-13
| Area (ha) | Crops | Gross Cost | Gross Return | Net Return |
| --- | --- | --- | --- | --- |
| 1.0 | Onion | 52000.00 | 384000.00 | 332000.00 |
| 0.125 | + Bottle guard | 3000.00 | 25000.00 | 22000.00 |