Training for Farmers farm women and rural youth

On an average this KVK conducts 225 to 250 need- based training programs in a year for farmers, farmwomen, rural youth and extension personal. 40-50% of them are long duration trainings.
More emphasis is given on long duration practical, self employment oriented trainings for school dropouts & unemployed rural youth.
Many participants on completion of the training have been successfully self employed by way of establishing their own units. Efforts are made to empower the women technically, as they play very vital role in agricultural operations. Farmer's groups may approach the KVK for customized trainings.
Training for Extension Functionaries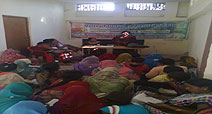 On an average this KVK conducts 10 to 15 need- based training programs for extension functionaries in the field of agriculture, horticulture, animal science, home science and agriculture engineering.
Demonstrations

Every year Krishi Vigyan Kendra conducts approximately 100 demonstrations on farmer's fields on various technologies released by research institutes and universities to realize the production potential of crops. These are mainly related to latest released varieties, methods to control pest & diseases, technologies to increase yields, agri implements to reduce drudgery of women, technologies to reduce production cost etc.
Technology Assessment & Refinement

In this activity, technologies that are released by state agricultural universities and research institutes are assessed in a given farming situation and need based refinement is proposed so as to make that technology more effective.